SCHLOSS KRUMBACH INTERNATIONAL SCHOOL
Type: Co-Ed Boarding
Age Group: 12-19 years old
Campus: Medieval Schloss Krumbach Castle 
Accommodation: 22 square meters double rooms renovated and furnished in 2020 
Address: Schloss 1, 2851 Krumbach, Austria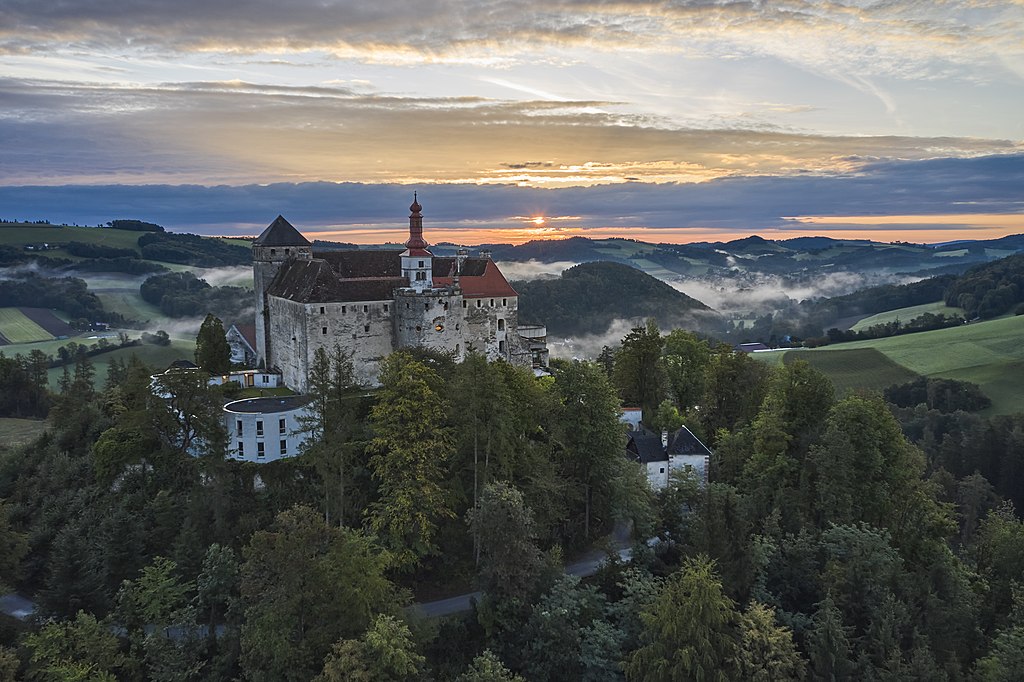 Grades 7-9: English and German
Grades 10-12: English
Core Subjects:
Mathematics
Natural Sciences
Humanities
Social Studies
Computer Science
Benefit from international education at a school recognized as an IB Diploma candidate. This programme opens doors to leading universities in 140 countries around the world. 
Combining the best teaching methods, we set each student's learning pace individually and achieve results day by day! 
The superior level of education at Schloss Krumbach is ensured by the talent, experience, deep knowledge and innovative approaches of its highly qualified teachers. 
The academic year for grades 7-9 ends with an exam and final annual assessment authorized by the Austrian Ministry of Education.
Extracurricular Activities
Extracurricular activities at Schloss Krumbach International School fall into 4 categories:
Project or Profession-Oriented
Scientific
Cultural
Athletic
Outside of school hours, students can pursue their interests in clubs that give them the opportunity to deepen their knowledge and engage in real practice.
Schloss Krumbach International School provides more than just education in the main subjects. It produces physically strong, well-raised adults that are adept at critical thinking and who demonstrate good manners and a modern worldview.
The school is located in one of Austria's most picturesque areas, Bucklige Welt, also known as the 'Land of a Thousand Hills'. Its main building is a medieval castle surrounded by forests.
Krumbach Fortress was first built in the 11th century, but the current building dates to the 13th Century. The estate passed into the possession of noble Pálffy von Erdöd family in 1629 and served as a hotel for the last 30 years.
The castle building was restored and modernised in 2020 and is equipped with the most advanced equipment for effective teaching and learning.
Our campus is a safe space with highly developed infrastructure, round-the-clock security and excellent equipment:
18 classrooms
2 Science Labs
2 Libraries
Great Hall
Hearth Room
Weight Room
Aerobics Room
Concert Hall
Chapel
SCHLOSS KRUMBACH INTERNATIONAL SCHOOL
2021-2022
Schloss Krumbach International School believes in a multi-format boarding education.
Day Program [8 AM – 4 PM] is a high-quality equivalent of a usual non-boarding international school. Students experience top-notch education and participate in the school life yet to a limited extent since most of the extracurricular activities, trips, sports and events happen after 4 PM. This option is still a very rewarding one but we do not deem it the most effective in terms of low access to after-school learning support and interaction with the peers.
Half-Board Program [Monday-Friday] teaches students to excel in time management. With support of teachers and supervisors, they are able to complete all the assignments in advance, before the weekend starts. SKIS brings up high achievers, capable of combining intense studying with quality family time on Saturdays and Sundays. Although they spend weekends outside of school, half-board students still experience all the events, everyday sports and trips offered at SKIS.
Full Boarding Program is an option for students who live and study at SKIS full-time [August 25th – June 20th minus school breaks as indicated in the schedule]. This is the most popular and effective way of learning because it grants a deeper immersion in studying and school life. Students have access to the whole spectrum of extracurricular activities, learning support, socialisation and culture trips organized by the school. Surrounded by their peers and supervisors rather than smart phones, full boarding students tend to perform better academically and in terms of soft skills.