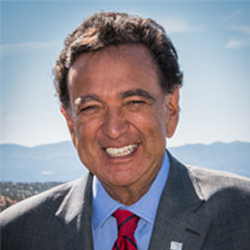 Bill Richardson, Chairman of Advisory Board Santa Fe, USA
Bill Richardson is an American politician, author, and diplomat who served as the 30th governor of New Mexico from 2003 to 2011. He was also the U.S. Ambassador to the United Nations and Energy Secretary in the Clinton administration, a U.S. Congressman, chairman of the 2004 Democratic National Convention, and chairman of the Democratic Governors Association.
Mr. Richardson has provided advice on diplomatic issues pertaining to North Korea and has visited the nation on several occasions. He has also completed a number of private humanitarian missions, most recently one that secured the release of U.S. journalist Danny Fenster from a Myanmar prison in November 2021.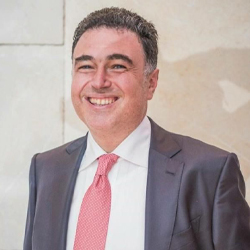 Vitaly Pruss, Founding Member, Vice President, and Vice Chairman of the Board, New York, USA
Vitaly Pruss is the Founder and Managing Partner of TriGlobal Strategic Ventures (TGSV), a venture capital & advisory firm. He oversees fund-raising efforts and manages the day-to-day investment relations of TriGlobal. Through TGSV, Vitaly collaborates with all types of private and publicly traded companies to help them maximize returns and increase transparency between shareholders and management.
M. Pruss has become an effective investor relations liaison, working with clients of all sizes. For the last decade, he has focused on improving the market potential and investment opportunities for international business leaders through international image development and financial strategy. In addition to managing international private equity investments and real estate transactions. Now he advises Forbes & Manhattan, a leading private merchant bank with a global focus on the resource-based sectors.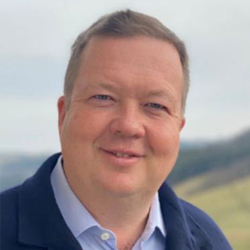 Vladimir Volozhanin, Founding Member, Board Member, Vienna, Austria
Vladimir Volozhanin is a top-tier professional with over 30 years of experience in negotiating international contracts related to investment, development, finance, and trade. His expertise also includes taxation and management consulting, liaison, and support, aiding regional authorities in developing and implementing commercial policies. The geographical regions of his work include Europe (Austria, Czech Republic, Montenegro), the USA, the UAE, Russia, CIS, and China.
Dr. Prof. Volozhanin holds multiple doctoral and professorial degrees in the fields of science, economics, and finance. He has authored numerous research papers and articles in professional and scientific journals. He has been honored with numerous awards and distinctions both in his academic and professional career. Additionally, he is a co-investor in the "Schloss Krumbach International School" (Krumbach, Austria). This International School offers International Baccalaureate, A-Level, and Duke of Edinburgh programs with students' accommodation provided at the Schloss Hotel Krumbach.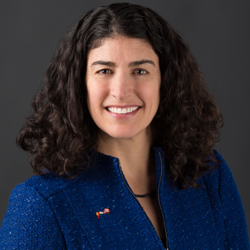 Lisa Y. Roskens, Founding Member, President, and Chairman of the Board, Omaha, USA
Lisa Y. Roskens is the Chief Executive Officer of Burlington Capital, LLC. Under Ms. Roskens' leadership, the organization was restructured to focus on real estate, agribusiness, and private equity. Burlington Capital has acquired, financed, and/or managed assets totaling over $7 billion. Lisa presided over the sale of Burlington Capital's two publicly traded subsidiaries, America First Multifamily Investors (ATAX) and America First Apartment Investors (APRO), and Burlington's subsequent entry into the venture capital sector.
Mrs. Roskens has extensive experience with international markets, complex projects with the government at all levels, and developing entrepreneurial businesses. She is also dedicated to supporting Burlington's engagement in the community, particularly through initiatives focused on providing affordable housing for veterans, constructing a new, modern juvenile detention center, and promoting projects that have a beneficial impact on the community.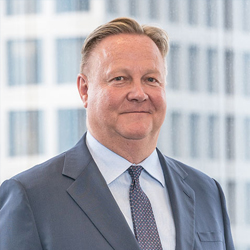 Ian Brownlow, Founding Member, Board Member, London, UK
Ian Brownlow is the former CEO of Gemini Rosemont, a $2 billion commercial real estate company headquartered in Los Angeles, and was responsible for the execution of over $10 billion of capital transactions during his tenure. He continues to serve as a Senior Advisor and a member of its Board of Directors. Ian is also CEO of Partnership International, empowering public and private sector clients in the creation of strategies towards sustainable development. He has managed numerous complex projects worldwide across many business sectors, including energy, mining, and agriculture.
Mr. Brownlow has worked with conglomerate executives at the highest corporate levels, such as Tiny Rowland of Lonrho, Robert O Anderson of Atlantic Richfield (Arco), and Lord Michael Ashcroft of BHI Corporation. Ian is a Fellow of the Institute of Chartered Accountants in England and Wales, and earlier in his career, he worked with Ernst & Young in London. Ian currently serves as a Board Member of the Association of Foreign Investors in the US (AFIRE) based in Washington DC.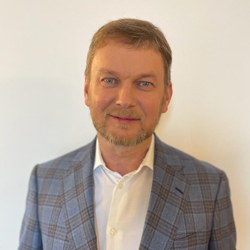 Sergiy Probylov, Founding Member, Board Member, Kyiv, Ukraine
Sergiy Probylov is the Chairman of the Nomination Committee, Shareholder at Misen Energy AB (publ) (Sweden), Investor, and Managing Partner in several natural gas development initiatives in Albania.
Mr. Probylov has extensive Board level /senior management/ investor experience in challenging environments and emerging markets with a special focus on the Energy sector. Among his investment portfolio are several of Ukraine's largest oil and gas projects, including both joint ventures and LLCs. His former positions include Head of Investments and External Relations at UGV, a major upstream oil&gas company in Ukraine, and Vice-Chairman of the Supervisory Board at the PJSC Innovational Industrial Bank (Ukraine). He holds M.Sc. in Thermal engineering and M.Sc. in Petroleum engineering.